Here you go, Samy. It's a fresh article about lovely Florence:
Alright, you're ready. You've squirreled away your money and booked your flight and are now finally ready to head off to beautiful Florence, Italy. The problem (if you can even call it such a thing) is that you've only got three days and nights to spend there. Whether you're on a layover or hoping to stop off at other countries during your time abroad, you've got to make your visit to "the cradle of the Renaissance" as productive and awe-inspiring as possible.
Here are some ideas to make your three-day trip feel fun and fulfilling.
Daytime Sights in Florence

The Duomo
Florence is renowned for its architecture. Some highlights include the The Cattdrale di Santa Maria del Fiore, or The Duomo. This is perhaps the most famous structure in Florence and is considered a UNESCO World Heritage Site. Think of it as visiting the Eiffel Tower in Paris, except that the cathedral is much, much older.
Palazzo Vecchio
There's also the Palazzo Vecchio, a massive fortress that serves as Florence's city hall. The Medici Chapel will be of interest to history buffs who want to see the seat of power for the famous Medici Family. From the 1400's to the 1800's, the Medici's were the premier authorities in Italy and their influence patronized or inspired much of the Renaissance art we see today.
Uffizi Gallery
Though it's a cliche, and one of the places everyone will tell you to go when you visit Florence, you really should do yourself a favor and check out the Uffizi Gallery. This institution houses perhaps the most famous and comprehensive collection of Italian paintings on the planet, by artists recognized as masters throughout history. Of course, since it's an iconic location, there are often long lines. To be fair though, it's kind of hard to find a place in Florence that isn't  at least a little iconic, considering its historical importance.
Galleria dell'Accademia
If the lines are too long at the Uffizi, or if you've already gone and are thirsting for more art, you can also check out the Galleria dell'Accademia. This gallery houses the statue of David sculpted by Michelangelo. This is probably your only chance to lay physical eyes upon an art object that is featured in movies, books, shows and literature for the past millenia. In short, you should make every possible effort to go.
Get Some Fresh Air
For as many historic indoor locations and bastions of art that exist in Florence, there are equally historic, artistically relevant locations that have great views overlooking the city. If you don't mind a little climbing, you might check out the Piazzale Michelangelo. After hiking up a long flight of stairs you can see the city from an impressive perch. I suggest making the trip and getting some altitudinal perspective to compliment all of the history you'll be absorbing while in Florence.
After climbing up to your bird's nest in the Oltrarno District and getting a look around, you might want somewhere scenic but still active to lounge. Your best bet is the Giardino di Boboli or Boboli Gardens. Here you can get a little peace from the crush of tourists. Keep in mind that there is an entrance fee of about 7 Euros.
Everybody likes free and when you're in a climate as idyllic as that of Tuscany's you want to divide your time evenly between the hallowed halls of palazzas and galleries and the outdoors. Ponte Vecchio is another FREE outdoor location where you can walk, breathe and watch history as it unfolds before your eyes in the present. Ponte Vecchio crosses the Arno River and is near the Florence's center. Though it's free to walk around the bridge and look at it, if you want a tour or a more in depth look, you'll probably have to pay.
A cheaper and maybe just as invigorating option is to simply stop at a cafe or trattoria and get a drink or bite to eat.
Since you're in Italy already you should get at least one glass of wine, if not a bottle or three. Casa del Vino or House of Wine is a low-key, but well respected wine bar near the St. Lorenzo leather markets. Casa del Vino doesn't do wine exclusively, while you drink you can also sample meats and cheeses, and delectable porchetta.
Trattoria La Casalinga is another low-key spot with the feel of a neighborhood restaurant. Like many of the other great restaurants in Florence, expect this place to be crowded at peak hours. Trattoria La Casalinga prepares traditional recipes like peposa stew and baccala salt cod.
If you really want to feel like a local you can head over to Nerbone, located in the Mercato Centrale or, you guessed it, Central Market. Nerbone serves things like braised tripe and chicken liver pate. Italian food prepared for Italians.
Florence Nighttime Sights
While you might visit The Duomo or the sprawling Palazzos for their architectural beauty during the light of day, you might revisit these spots for people watching at night. Duomo Square especially is usually brimming with people, vendors and street performers trying to make a few bucks. This is a great way to see the present and past come together in the same setting. Where else will you find silver-painted mimes plying their trade at the base of papal fortresses?
For the night owls who like the Renaissance well enough, but also want to get a little wild after the galleries close, there's a thriving night life in Florence.
Tenax, near the Florence Peretola Airport, is a dance club of the sort that blasts electronic dance music and laser light shows. If you want to bump and grind to the tune of synthesizers, this might be your spot.
If you're more in the mood for a place that also has food, you might check out Oibo, a lounge located across the grand Piazza Santa Croce. This place normally caters to a quiet, high end crowd, but on the weekends takes up its alter ego as a glow stick waving, EDM blasting night club.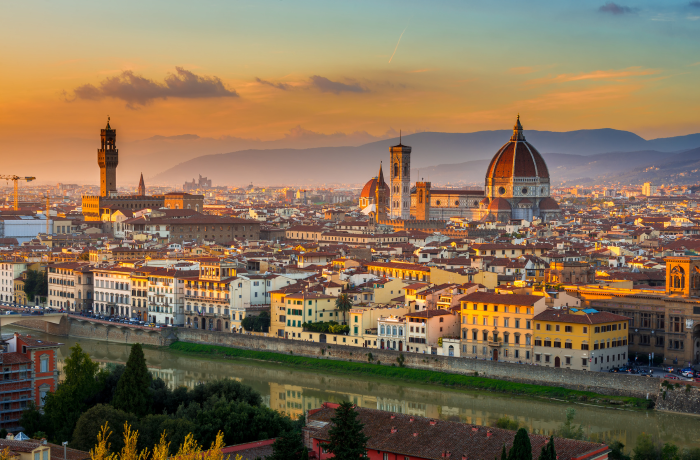 This is just the tip of the iceberg when it comes to Florence, but it should be more than enough to fill up three days and nights. Remember to pace yourself and take plenty of pictures!
samy.blue author: Peter Moro
Sunset view of Florence and Duomo by Fotolia – ekaterina_belova