Some places in the world are known for their beauty and others for their sheer activity. However, there is yet another class of place that, while beautiful and active, is known for mysteries. London is just such a place. With centuries of history that have included major wars, periods of religious persecution, revolt and even pure, unadulterated psychosis, it's no wonder that London is a trove of macabre secrets. Listed below are just a few of them.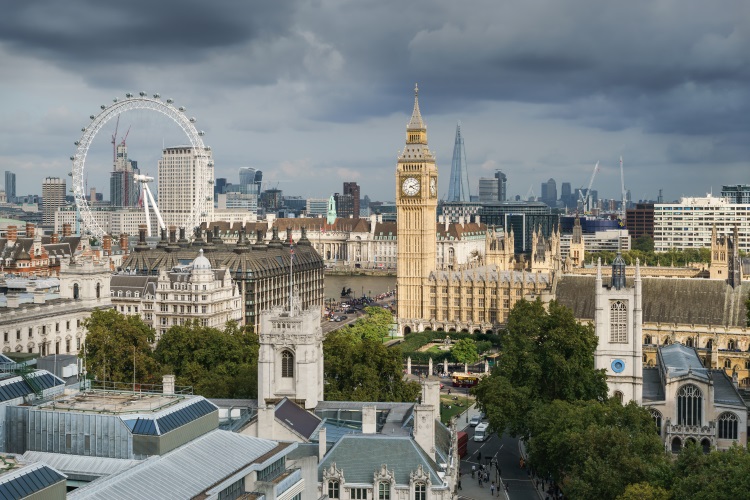 Greenwich Foot Tunnel
This subterranean tunnel was built in 1902, 15 meters under the London streets. This windowless, featureless, gray tube extends for 370 meters and is entered in the Cutty Sark Gardens.
City of London Cemetery
A more traditionally spooky place, the London Cemetery houses many of the cities deceased, both famous and not. Locals have long reported an ominous orange light strobing up from the Western section, though no one thus far has been able to account for it.
Hyde Park
This famous park is a tourist attraction and social center for the city. However, at certain times of year it serves as a congregation for creatures of a different sort, pipistrelles and noctules, two species of bat that fly en masse as the sun goes down.
Tower of London
Perhaps the most historically famous of London's more macabre attractions, the Tower of London was reputed, by propogandists of the 16th century, to be a dungeon of torture and beheadings. In truth, only 7 people were killed within the tower walls. However, over a hundered were killed on the nearby Tower Hill.
Ten Bells Pub
A bar built in the mid 1700's, it was torn down and relocated in the 1800's. Ten Bells is best known for being a haunt of historical serial killer, Jack the Ripper. Two of his victims, Annie Chapman and Mary Jane Kelly were reported to frequent the pub in the moments before their demise.
London Dungeons
This is a location with a lot of morbid history, but that has since been converted into a tourist attraction. Tours are lead by period actors who tell dark humor jokes. This isn't a place with tons of history in itself, but is an excellent way to get a quick highlight history of the death and gore that has occurred within London city limits. .
Highgate Cemetery
Another, perhaps more visually stunning place of interment. Highgate Cemtery is located next to Waterlow Park in north London. It's considered a spot of historical interest, ranked as Grade I by the English Heritage Register of Parks and Gardens. Beneath the ancient and moss-furred tombstones are over 170,00 people.
WW II Bunkers
London was bombed heavily by the Germans during much of World War 2 and secret,  underground shelters were built in response. Many of them were for government officials only. Top level officers sent coded messages from their cellar-like fortresses. By the end of the war, more of the bomb shelters were opened to a general population.
Churchill's Bunker
Turns out London is full of WWII era labyrinths, which makes sense considering the role it played in the war and its proximity to its enemies. Iconic Prime Minister Winston Churchill cordoned off a special section of these remote bunkers to plan major military operations. The entrance to this particular maze is hidden in a residential area behind a door that opens to a tunnel.
The Chislehurst Caves
Chislehurst is a London suburb with the kind of name one expects from a Victorian melodrama. True to its name, Chislehurst contains over twenty miles of man-made caves that were literally chiseled out for the purpose of chalk and flint mines in the 1200's. Later, the Chislehurst Caves were converted to bomb shelters and ammo depots for soldiers during the World Wars.
Clink Hostels
Clink 78 and Clink 261 are hostels built from old courthouses. The rooms are often former prison cells repainted and equipped with wifi. Clink is perhaps at once mysterious and not—its locations were once the sites of trials and incarceration, but the present layout is a far cry from its former severity. Now the hostels are brightly painted, well-lit and outfitted with bars, lounge chairs and electronic music.
House of Lords
This parliamentary house was also the site of a near-rebellion in seventeenth century England. Several conspirators planned to tunnel beneath the house and explode it with barrels of gunpowder. The most famous of these conspirators, Guy Fawkes, was caught tunneling into the cellars and guarding such barrels.
Bleeding Heart Yard
Make note of the sheer number of gruesome things that happened in England between the 16 and 1800's. At Bleeding Heart Yard in 1626, Lady Elizabeth Hatton was entirely dismembered and eviscerated. By standers found her heart, exposed to the air, still pumping blood onto the cobblestones.
Queen Elizabeth Hospital for Children
Created in 1881, this property started as an estate and then converted to a children's hospital. It burned down in the 1936 and was rebuilt, eventually becoming a military hospital. In the 1940's and 50's it once again served children for a brief period before closing down and becoming derelict. The building stood abandoned for decades with nothing to contain save a century's worth of war secrets and illness.
The Grenadier
Another pub originating in the early 1700's. The Grenadier actually began as an officer's mess hall and didn't become a drinking establishment until almost a century later. Along with being a famous establishment that has catered to celebrities, the Grenadier was the site of a murder. A subaltern was killed for supposedly cheating at a card game and since that time patrons have described hearing footsteps and rattling in the empty rooms.
Ghost Bus Tour
This double decker bus is outfitted to look spooky in a theatrical way. Period actors complete the look. Not so much a mystery of the city as a fun and lighthearted way to learn about its dark past.
The London Museum
Another attraction that is not itself mysterious, but a great conduit for absorbing the mysteries of London in a fun way. The London museum is the largest one dedicated to urban history in the world. Perhaps not surprisingly, a great portion of its exhibits are dedicated to detailing the many massacres, plagues, public executions, hidden tombs and clandestine passageways that spatter across England's past.
London, by Peter Moro